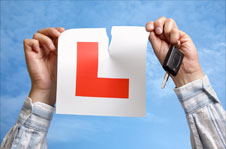 Licensed to Drive School of Motoring is one of 100 driving schools in Galway giving driving lessons to all age groups.  There has been a significant drop in ADI's over the past two years from approximately 165 to 100.  Hence there fewer Driving Instructors available in Galway. What makes us, as a driving school stand out from the others, is our professional and safe manner in which we deliver a driving lesson to a learner.  Licensed to Drive ensure each learner has the lesson plan which suits his/her learning needs.  Licensed to Drive has years of driving experience both in Ireland and abroad and hence are able to bring all our driving experience into each driving lesson given.  Every driving school in Galway will teach you how to drive but here at Licensed to Drive we pride ourselves in giving that bit more, more attention, more time, more patience, more praise and most of all more value for money.  Driving lessons in Galway are expensive thus making learning to drive expensive, so at Licensed to Drive we show you how to save money on your driving lessons.  We make your learning as en-expensive as possible without cutting corners.
There are four test centres in Galway, Clifden - Market Street, Westside – Seamus Quirke Road, Loughrea – Bridge Street and Tuam – Airglooney Business Park.  Licensed to Drive School of Motoring cover them all.  We take learners along the test routes before their test, making sure not to get in the way of other learners or indeed learners taking their test.  Some of the routes are Salthill and Taylors Hill to name but a few.  We pick you up from your door and drop you off, making learning to drive as easy as possible.  We get you behind the wheel as soon as possible driving through nursery routes (quiet roads and quiet residential areas) building up your driving confidence at all times.  As a registered ADI with the RSA, Licensed to Drive is kept up to date with any changes or updates in Road Safety Authority itself.  Details of this and the introduction of new penalty points can be found at www.rsa.ie.  Being patient and friendly is paramount to a learner.  We find it produces a positive reaction on their ability to learn to drive.  The more you ask the more you learn and the more we encourage you to progress.
Licensed to Drive can offer qualifying learners substantial Insurance discounts.  Contact us for more information and save money.
Call us today: 086 856 4005 - Great deals for students