Welcome to our Galway Driving School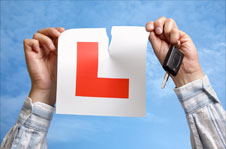 Licensed to Drive School of Motoring provides professional one to one driving lessons to all learners and drivers for category B Licence.  We like to ensure that our learners get the tuition they require to become safe and confident drivers for the rest of their driving lives, as we believe "driving is a skill for life". Our driving school is based in Galway providing driving lessons to city and surrounding county.  We cover all test centre's and make sure you have knowledge of some of the test routes within a 3 mile square radius of each test centre.  Licensed to Drive will pick you up from your door or college and drop you back after your lesson, taking the pressure and hassle of finding transport to your lesson.  Licensed to Drive School of Motoring is ADI and RSA registered.  You can find us on the RSA website under Registered ADI's (No.37865).  We are also registered with Mytown.ie and LearnerDrivers.ie
We have lessons for the young and not so young, beginners, intermediates, pretest, refreshers and pass plus covering all driver requirements. You can be someone from another country acquiring an Irish Driving Licence or someone who has not been driving for some time and just wants to build up their confidence and driving skills.  Whatever you require we provide a lesson plan for each lesson to suit you. We teach you how to drive not just for your test but for the rest of your driving life.  Licensed to Drive take pride in providing a high quality service and customer satisfaction, ensuring to meet your learning expectations and knowing that we have given you a skill for the rest of your driving life.
EDT Lessons
Since 4th April 2011 the RSA introduced the Essential Driver Training Course (EDT).  This is made up of 12 EDT Lessons each lasting 1 hour and Licensed to Drive ensures you complete each one efficiently and safely, ensuring that you have the skills required to move on to the next one. Details of the EDT Lessons are in the Learner Driver Information Booklet or on the RSA website rsa.ie.  Learning to drive can be expensive and at Licensed to Drive we advise all learners to get in as much practice as possible between lessons with your sponsor i.e., your parents or brother or sister.  You sponsor must hold a full Driving Licence for a minimum of two years and remember you must have an L plate to the front and rear of the vehicle you are driving in.  Important: All learners must be insured on the vehicle they are learning to drive in.  As of the 8th December, new penalty points for Learner drivers have been introduced (full details at rsa.ie).  All newly qualified drivers must display their "N" (Novice) plate, again to front and rear of vehicle for a minimum of two years.
Insurance Discounts
Licensed to Drive can offer qualified learners substantial Insurance discounts.  Contact us today for more information. We help you save money.
Call us today: 086 856 4005 - Great deals for students